Quel plaisir de revoir Itachi. J'ai adoré la conversation qu'il a eu avec Naruto. La première chose à laquelle Itachi a pensé a été de prendre des nouvelles de Sasuke. C'était très émouvant de voir Naruto lui annoncer que Sasuke a pris le chemin opposé, qu'il a décidé de se venger du village au lieu de respecter le sacrifice d'Itachi.
I'm so happy and excited to see Itachi. The first thing that come to his mind is to ask about Sasuke's whereabouts. I was moved by the talking between him and Naruto. The fact that Naruto tells him that Sasuke learned the truth and that he wants to take revenge for his brothers sake and retaliates by attacking Konoha. It's so sad to see Sasuke behaving like that. He wants to destroy the village that Itachi protected by sacrificing himself. Baka Sasuke.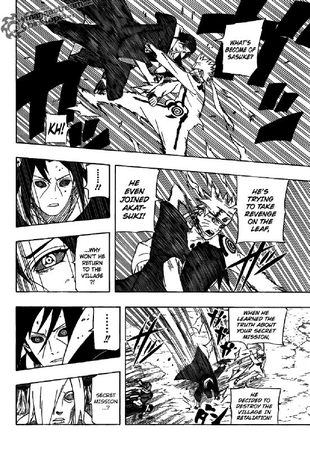 Quand à Itachi, il souhaite garder le secret sur sa mission quitte à rester dans les mémoires comme un meurtrier pour ne pas déshonorer son clan. Et il confie Sasuke à Naruto...
Even after his death, Itachi remains silent about his sacrifice. He does not want his family to be dishonored. And he entrusts Sasuke to Naruto.
Concernant la chose qu'Itachi a implanté en Naruto, il semble s'activer pour le protéger...
Hâte de lire le prochain chapitre :)
P.S : j'adore Itachi, je l'ADORE *mode fangirl activée*