Kubo-sensei nous a bien eu avec un soudain revirement de la situation avec l'apparition inoppinée d'Ishida qui dévoile l'identité de son agresseur : Ginjou.
Alors que dans le chapitre précédent, Ginjou semblait être le dernier espoir d'ichigo, voilà que l'on apprend qu'il est the bad guy. Sugoi !!
Kubo-sensei surprised with a plot twist : Ishida appears and reveals that Ginjou attacked him.
In the previous chapter, Ginjou was described as the only remaining hope for Ichigo, his last and best ally... And now, he is the bad guy !!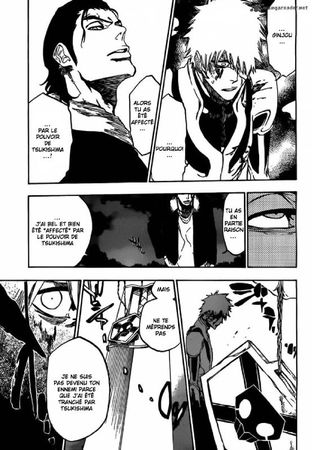 Tsukishima & Ginjou sont en fait alliés et ont imaginé cette supercherie pour affaiblir Ichigo et pouvoir le vaincre. Une supercherie machiavélique et bien pensée : dans un premier temps, Tsukishima a "tranché" Ginjou en le persuadant d'être l'ennemi de Tsukishima et l'allié d'Ichigo et ensuite, il l'a "retranché" pour lui redonner sa vraie personnalité.
Tsukishima & Ginjou have imagined this plan together in order to weaken and beat Ichigo. An ingenious betrayal. At first, Tsukishima cut Ginjou to implement the idea of Ichigo being an ally and Tsukishima becoming an ennemy. And then he cut him again to make him retrieve his memories.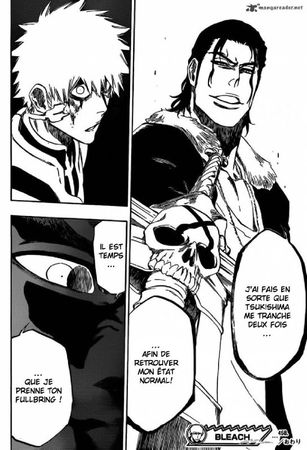 Maintenant, qui va venir au secours d'Ichigo ? Les wizards ? La Soul Society ? Le mystérieux shinigami ? Son père & Urahara-san ?
Now, who is going to save Ichigo ? The Wizards ? the Soul Society ? the mysterious shinigami ? Uraharan-san and Ichigo's dad ?