Chers fans de Prince of tennis, réjouissez-vous car la suite du célèbre shounen sportif intitulée Shin Tennis no Oujisama va bénéficier d'une adaptation animée !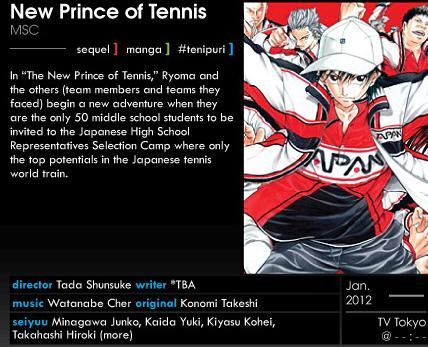 Pour ceux et celles qui ne sont pas à jour, voici l'histoire :
Shin Prince Of Tennis prend place après la victoire de Seigaku lors du tournoi national.
Notre oujisama, Echizen Ryoma, revient au Japon après être parti s'entraîner aux Etats-Unis afin de rejoindre ses coéquipiers au U-17, un camp d'entrainement pour les joueurs d'élite âgés de moins de 17 ans.
Leur venue et celle des autres joueurs d'élite de leur âge crée la surprise dans ce camp qui reçoit pour la première fois des joueurs aussi jeunes. Leurs aînés ne leur feront bien sûr aucun cadeau et un entraînement particulier va bientôt prendre place : l'objectif n'est de garder que l'élite alors ceux qui perdent quittent le camp...