Après Troublemaker & le solo album de Hyuna, un nouveau sous-groupe avec

Gayoon and Jiyoon

des 4 minute
Un album solo pour Miryo des Brown Eyed Girls en janvier
After school MV pour leur single japonais "Rambling Girls"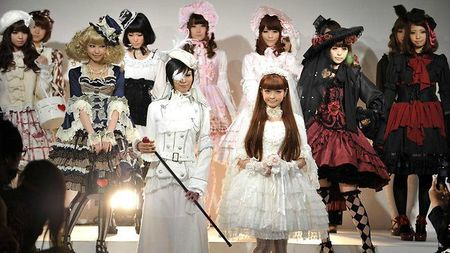 "What began as a street fashion two decades ago as youngsters aped the doll-like European styles of baroque and rococo has morphed into a near mainstream movement, with dozens of offshoots.
Popular Lolita models such as Misako Aoki were big hits at this autumn's Japan Fashion Week, showing off white parasols and pastel pink puff sleeves with high-laced boots, tiny top hats and huge ribbons.
"This is definitely one of the latest trends in Japan's fashion world," said Akiko Shinoda, a director for the Japan Fashion Week Organisation, adding Lolitas appeared for the first time last year at the twice-a-year show.
"I think it will survive as one distinct category in Japan."
"As we reach the final days of 2011, Korea's popular primetime channels SBS, KBS and MBC will be hosting a multitude of award shows to wrap up the year with a bang. With 9 programs on our plates –that's 3 gayo daejun (music festival) shows, 3 entertainment award events, and 3 drama award ceremonies — allkpop has compiled a handy schedule guide to sum up what's to come.
Since announcements are still being released daily, this guide is still incomplete and will be updated accordingly, so remember to keep checking back!"
"KARA will be putting their multi-language skills to use by becoming Korean language teachers for their new smartphone application!
On December 22nd, DSP Media will release "KARA's Korean Vacation", an app that features over 400 different lessons on vocabulary and phrases fans will need when visiting Korea. Topics cover everything from greetings, transportation, shopping, eating, and finding a place to stay."
"The K-pop craze that's taking the world by storm was also manifest on the largest video portal site in the world, Youtube.
On December 21st, Youtube reported the top 10 most-watched music videos by domestic citizens in Korea (not including overseas views) since January 1st, 2011.
According to the report, the #1 most-watched K-pop music video in Korea for 2011 was Wonder Girls' and their hit track, "Be My Baby".
HyunA's solo single "Bubble Pop" came in at #2, while SNSD's "The Boys" came in at #3, holding a record for immediately receiving 400,000 views upon release."
This is our seventh annual Soompi Gayo Awards event to recognize the top performers in Korean music in 2011, and we promise this year's awards will be the best. Once again, the 2011 Soompi Gayo Awards will be announced on New Year's Eve, December 31.
To take this award to the next level, we are proud to partner with MYX TV for the first time this year, and they will broadcast the award show on January 10, 2012.
As always, we take pride in achieving a fair result by utilizing many different sources for our music chart. We expect these awards to be given to the artists whose songs achieved the highest popularity in Korea this year. The awards categories will be the same as last year, except we merge the mixed group and duet awards into one single award. Once again, you, the fans, will vote for the Top 10 Singers of 2011!